Sommige van onze leden hebben de "Slag om de Ardennen" of de "Slag om Arnhem"mee gemaakt, maar nu hoorden we mensen zeggen dat wat er hen eergisteren en gisteren overviel erger was dan de oorlog.
Enkele weken geleden hadden wij in onze dorpen ook het water en de modder zien stromen. Maar wat wij nu te zien kregen was "ongezien" en hebben de meesten van ons nog nooit mee gemaakt. In ons leven hebben we wel al overstromingen gekend of ogenblikken waar het water langs de electriciteitsleidingen naar beneden kletste op het bed en andere meubelen. Maar dit!
Vorige week werden via de televisie en media al waarschuwingen gegeven naar kampeerders om best niet langs rivierbeddingen te gaan kamperen of in laag gelegen gebieden. Op meerdere campings werd er met man en macht gewerkt om de campingwagens te verzetten naar een veiliger plek. Eergisteren en gisteren leken zelfs die veiligere plekjes hopeloze plaatsen, waar ze op dobberende lucifersdoosjes leken te worden herschapen voordat ze tot platte schijven werden geplet.
In Jalhay, in de provincie Luik, waren dinsdagavond een honderdtal scouts al geëvacueerd, en had de brandweer van de reddingszone 4, Vesdre Hoëgne en Plateau, meer dan 260 interventies uitgevoerd als gevolg van de hevige regenval. Al snel kregen Pepinster, Theux, Chaudfontaine en Spa hun portie water binnen.
In meerdere dorpen stroomde het water als een wilde rivier door de straten en daverde de huizen binnen. Wij konden getuige zijn van waterstromen die vanuit de eerste verdieping naar beneden klotste, terwijl het de meubelen op haar pad mee nam. Het ging er zo hevig aan toe totdat eerst de binnenmuren het begaven, om daarna het hele huis in een val mee te trekken. De bewoners hadden zich nog net op het dak van het aanpalende huis in veiligheid kunnen brengen. Anderen waren minder gelukkig en moesten het met de dood bekopen toen hun huis instorte en zij met de stroom werden mee getrokken.
Mensen lieten weten dat zij de hulpdiensten niet konden bereiken, of indien zij contact hadden, gevraagd werden om niet meer te bellen om de lijnen niet te overbelasten. En de lijnen waren inderdaad overbelast, doordat mensen geen raad meer wisten en naar het dak moesten vluchten, waar zij de nacht in koude natte weersomstandigheden vol angst door brachten.
Di Rupo wist te zeggen:
'Wanneer huizen instorten, dan is dat te wijten aan de kracht van het water. Maar wanneer we niet in staat zijn om de slachtoffers van rampen te bereiken, dan moeten we daar lessen uit trekken.'
Di Rupo wees erop dat donderdagavond nog honderden mensen vastzaten en dat de hulpverleners op het terrein hen niet konden bereiken. Helikopters konden niet vliegen vanwege de slechte zichtbaarheid, terwijl de ingezette vaartuigen soms niet opgewassen waren tegen de kracht van het water. Wij konden zien hoe een reddingsbootje met drie brandweerlieden gewoon een speelbal in het water was geworden en van de ene zijde van de straat naar de andere tegen de huizen werd gekatapulteerd. Het bootje leek wel onderdeel van zulk een speelbal in een caféspel.
'Zelfs op het niveau van het leger zijn er boten nodig met motoren die twee- tot driemaal krachtiger zijn',
aldus Di Rupo.
'Noch het leger, noch de Civiele Bescherming beschikte over het juiste materiaal.'
Vanuit Antwerpen en Vlaams-Brabant waren hulpdiensten ingesprongen en deden al het mogelijke dat ze konden met de hulp van vrijwillige moedige burgers. In slechte dagen kan men dan zien hoe er toch nog solidariteit kan zijn en hulpvaardigheid. Maar ook daar kon men zien dat niet alle hulp op tijd kwam of er zelfs niet toe kon geraken.
Een dame die met haar auto mensen naar het droge bracht, kwam op een punt dat ze nog één persoon uit een huis wilde gaan halen terwijl ze de anderen al op het droge had gebracht. Maar toen ze aan het huis was gekomen zag ze de watermassa door haar openstaande achterklep binnenstromen en als een speelgoedje haar auto verplaatsen. Zij zat nu mee gevangen in het huis.
In juni 2016 was er ook een grote overstroming. Die was veel minder vernietigend dan de huidige en leidde tot 27.000 aangiftes en 143 miljoen euro schade.
Wat wij nu te zien kregen is voor vele jaren zonder voorgaande. Als men al die meegesleurde meubels, koelkasten, diepvriezers en auto's zag, net als de vele vernielde huizen moet dit zelfs voor grote verzekeringsmaatschappijen een echte ramp zijn. Tal van huizen stortten al in, en tientallen wegen en bruggen zijn beschadigd. Wallonië en Limburg zijn ernstig getroffen, maar het extreme weer hield ook lelijk huis in het oostelijke deel van Vlaams- en Waals-Brabant. Waver liep ook wel onder water, maar met hun halve meter op sommige plaatsen was dit niets tegenover Luik, waar het water op sommige plaatsen tot borsthoogte kwam, en in andere delen van Wallonië waar het water steeg tot aan de dakrand van huizen met drie vloeren (tot en met het tweede verdiep onder water). Pepinster lijkt wel het ernstigst getroffen. In Pepinster, in de provincie Luik, ging het donderdag namiddag mis toen de brandweer drie mensen wilde redden. Hun boot raakte stuurloos en belandde tegen een brug. De brandweerlieden en de bewoners belandden in het water. De brandweermannen konden gered worden, maar de drie burgers zijn nog steeds vermist.
Op diezelfde dag , 15 juli, werd, na crisisoverleg met de burgemeesters, in alle Limburgse gemeenten aan de Maas aan inwoners van de lager gelegen gebieden gevraagd om te evacueren. Door de hevige regenval van de afgelopen dagen staan de debieten op de Maas historisch hoog. In enkele straten van Lanaken ging het om een verplichte evacuatie.  De voorspellingen wijzen uit dat de situatie enkel zal verergeren, want water vanuit het zuiden (Frankrijk, Provincies Luxemburg en Luik) moet nog afstromen naar Belgisch en Nederlands Limburg. Er worden mogelijke debieten voorspeld tot 3.750 kubieke meter per seconde, wat al 100 jaar niet meer gebeurd is.
In West-Duitsland leken sommige dorpen wel door een orkaan plat gelegd. In het westen van Duitsland heeft men al weet van meer dan 100 mensenlevens die door het noodweer geëist zijn.  dit is slechts een voorlopige balans, want men beseft dat het nog veel meer zullen zijn omdat er nog vele vermisten zijn.
In het district Ahrweiler, in de deelstaat Rijnland-Palts werden gisteren al 18 doden geteld. In de stad Schuld in Ahrweiler zijn 's nachts vier huizen volledig en twee andere voor de helft weggespoeld. Ook andere gebouwen in het rampgebied staan op instorten.
"We hebben nog nooit zo'n catastrofe gezien. Het is echt verwoestend",
zegt de regionale regeringsleider Malu Dreyer.
Er zijn ook nog altijd tientallen mensen vermist. Hoeveel van die mensen in nood verkeren, is niet duidelijk. Wellicht zijn ook heel wat mensen op vakantie, of hebben ze wegens het noodweer onderdak gezocht bij kennissen. Omdat het gsm-netwerk gedeeltelijk platligt, is het lastig om iedereen te bereiken.
De meeste doden in die deelstaat vielen in het district Euskirchen, waar volgens de lokale overheid zeker acht mensen om het leven zijn gekomen. In Keulen werden ook twee mensen dood aangetroffen in hun ondergelopen kelder. Daarnaast zijn ook in Solingen en Wuppertal twee mensen in hun ondergelopen kelder overleden.
Blessem, deel van de gemeente Erftstadt kreeg te maken met een grote aardverschuiving.
"Vanuit de huizen komen noodoproepen, maar voorlopig is redding niet mogelijk",
schrijft de regionale regering op Twitter.
"Onze rampenbestrijding is ter plaatse."
Op luchtfoto's is te zien hoe huizen weggespoeld en verdwenen zijn door de aardverschuivingen.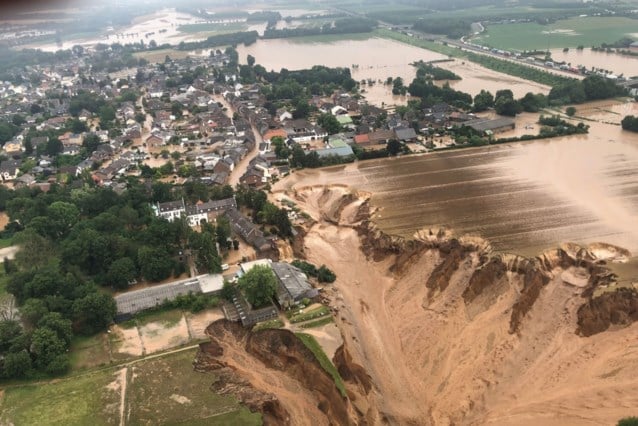 Voorts zijn in Sauerland twee brandweermannen omgekomen bij hulpoperaties. Donderdagmorgen werd in Rheinbach, bij Bonn, ook een dode vrouw ontdekt op straat.
In Rijnland-Palts, een andere deelstaat die zwaar werd getroffen, is de precieze omvang van de ramp nog niet te overzien, zo meldt het regionale ministerie van Binnenlandse Zaken. Een grootschalige reddingsoperatie is al uren aan de gang. Er worden politiehelikopters ingezet om mensen van daken te redden en het Duitse leger heeft er ongeveer 200 soldaten ingezet.
In al die plaatsen zal het nu heel wat tijd vragen om alles op te kuisen, maar ook om terug drinkbaar water, electriciteit en gas te voorzien. Betreft voedselvoorziening kijkt de regering ook op een hoop moeilijkheden om dat te voorzien, doordat sommige plaatsen zeer slecht of niet bereikbaar zijn en omdat mensen hun voedselvoorraad helemaal venrietigd is en voedselzaken werkloos zijn geworden door een schade die nog heel wat tijd zal vergen om hersteld te worden.
Een heikel punt bij deze ramp is ook de capaciteit bij verzekeraars om alle dossiers tijdig te behandelen. Heel wat schaderegelaars uit niet-getroffen gebieden zullen moeten bijspringen, alsook is er grote nood aan hulpverleners om op te ruimen en op te bouwen. Men kan slechts hopen dat mensen voldoende onkosten zullen vergoed krijgen. Bepaalde verzekeringsmaatschappijen hebben wel al laten weten dat zij ook de verplaatsingskosten voor herstellers die uit niet-getroffen zones komen helpen zullen betalen. Wat toch al een kleine troost mag zijn.
Wij wensen al die slachtoffers van deze ongeziene natuurramp veel moed en hopen dat zij spoedig een herstel en betere dagen mogen tegemoet mogen zien!
**
**
*
La Belgique est touchée par des crues et des inondations ces dernières heures. Au moins deux personnes ont perdu la vie ce mercredi en province de Liège. A Pepinster, plusieurs maisons se sont effondrées. Des évacuations sont en cours depuis tôt ce matin, notamment en province de Namur et en province de Luxembourg. Une grande partie de la Wallonie est désormais en alerte de crue.
➡ Spa sous eau et privée d'électricité
L'est de la province de Liège est particulièrement touché. Les communes de Chaudfontaine, Eupen, Polleur, Belleheid, Ternell, Spa et Jalhay sont passées en phase d'alerte de crue. Vers 10h15, une coupure d'électricité touche les habitants de la ville d'eaux. Sur sa page Facebook, la ville de Spa écrit "nous n'avons plus de courant en hyper-centre, (…), nous sommes donc injoignable". Pareil pour la Zone de police fagnes et le CPAS de la Ville où "le niveau d'eau est arrivé à hauteur du bâtiment". Theux est sous eau également, tandis que le lac de Warfaaz déborde. Selon source policière, une réunion de crise est en cours et l'évacuation totale de certains quartiers est en cours
➡ Scouts évacués à Jalhay
Une centaine de Scouts ont été évacués dans la nuit de mardi à mercredi à Jalhay, en province de Liège, indique l'échevin de la communication, Michel Parotte. Depuis mardi soir, les pompiers de la zone de secours 4, Vesdre Hoëgne et Plateau, ont effectué plus de 260 interventions en raison des fortes pluies.
🔴 Recommandations en cas d'inondations
Catherine Delcourt, Gouverneure f.f de la Province de Liège, rappelle aussi les recommandations suivantes en cas d'inondations: utiliser des sacs de sable, placer les meuble en hauteur, couper les arrivées de gaz et d'électricité mais aussi "photographiez les espaces inondés", rappelle la Gouverneure f.f., un réflexe indispensable et qui servira à la constitution d'un dossier auprès des assurances.
*
**
*In Germany – the most severely affected country – dozens of people are still missing.*
+++
Vindt ook te lezen en te bekijken:
++
16 Juli namiddag update:
Lees verder ook: