In the wake of the COVID-19 pandemic and amid reports of a growing youth mental health crisis, four-in-ten U.S. parents with children younger than 18 say they are extremely or very worried that their children might struggle with anxiety or depression at some point. In fact, mental health concerns top the list of parental worries, followed by 35% who are similarly concerned about their children being bullied, according to a new Pew Research Center survey. These items trump parents' concerns about certain physical threats to their children, the dangers of drugs and alcohol, teen pregnancy and getting in trouble with the police.
Parenting a child of any age is tough—"the toughest job you'll ever love," to quote a line from the Peace Corps — but parenting a teenager can be challenging on a whole other level. It's as if the day your first child turns 13, you get a force-fed dose of Morpheus' "red pill," causing you to fall down the rabbit hole of The Matrix and into a disorienting reality where every aspect of your psychological existence is not as it seems.
When asked about their aspirations for their children when they reach adulthood, parents prioritize financial independence and career satisfaction. Roughly nine-in-ten parents say it's extremely or very important to them that their children be financially independent when they are adults, and the same share say it's equally important that their children have jobs or careers they enjoy. About four-in-ten (41%) say it's extremely or very important to them that their children earn a college degree, while smaller shares place a lot of importance on their children eventually becoming parents (20%) and getting married (21%).
There are sharp differences by race and ethnicity when it comes to the importance parents place on their children graduating from college: 70% of Asian parents say this is extremely or very important to them, compared with 57% of Hispanic parents, 51% of Black parents, and just 29% of White parents.
In a nod to the adage about family life that parenting is the hardest job in the world, most parents (62%) say being a parent has been at least somewhat harder than they expected, with about a quarter (26%) saying it's been a lot harder. This is especially true of mothers, 30% of whom say being a parent has been a lot harder than they expected (compared with 20% of fathers).
At the same time, most parents give themselves high marks for the job they're doing, with 64% saying they do an excellent or very good job as a parent; 32% say they do a good job, while just 4% say they do an only fair or poor job as a parent. Mothers and fathers give themselves similarly high ratings, but there are differences by income and by race and ethnicity (upper-income and Black and White parents are the most likely to say they do an excellent or very good job).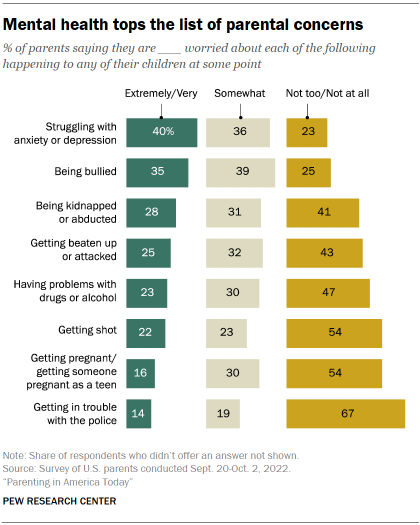 Come to read more: