Tag Archives:
Naleven

"Tenzij we zijn leringen naleven,
laten we geen geloof in hem zien."
~ Ezra Taft Benson

Lessen trekken uit het gebeurde is oh zo moeilijk en de mensen vergeten oh zo gauw.

Het tij keren of stappen terug nemen, of de moed hebben om de hand uit te steken en het verleden achter te laten is niet zo eenvoudig.

Al jaren werd de mens met zijn neus op feiten gedrukt en al jaren heeft de mens heel wat genegeerd en wenst hij van bepaalde zaken niets te weten. Vooral die zaken die hem er toe zouden kunnen toe brengen beslissingen te nemen schrikken hem het meeste af. Hier is de adder onder het gras. Religie die wenkt en door velen valselijk gebruikt als voorwendsel om hun wereldse lusten van macht bot te vieren.

Moesten de mensen zich eens meer verdiepen wat die religie te bieden heeft en nagaan wat er werkelijk in al die heilige boeken is geschreven. Ook zou de wereld heel wat fijner zijn moesten er meer mensen zijn die de geschriften zouden naleven die zij beweren te volgen.
Went de meeste heilige geschriften getuigen van een zoeken naar bewustzijn, eigenheid en vooral naar innerlijke en uiterlijke vrede.

*

Om te herinneren

grote menigte aan de beurs + leuzen: "Nous sommes Bruxelles – wij zijn Brussel"
tieners = niet wisten hoe wereld draaide = mensen oorlog nodig hadden => kwamen terug bij elkaar
Nationalisme = heel sterk samenhorigheidsgevoel
doden begraven + geen lessen trekken uit gebeurde
komen op straat tegen terrorisme +  voor verdraagzaamheid > verandert helemaal niets = blijven met vingers wijzen, zonder koppen bij elkaar te steken + middenweg te zoeken
Waarom zijn mensen bang?
Zolang personen geen context plaatsen rond hun heilige boeken = altijd problemen
We moeten voorbij de haat
+ nuchter blijven, wegkijken uit angst om uitgescholden te worden omdat we de waarheid vertellen kan ook niet.

+

Voorgaande

In tijden van gemeenschappelijk verdriet

++

Vindt ook om te lezen:

+++

Related articles
malakhahavah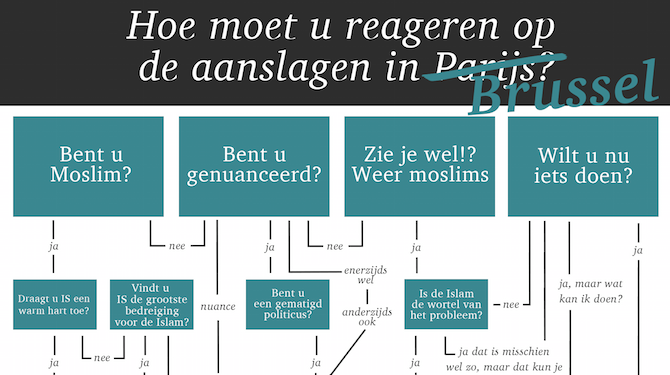 Soms kijk ik naar mijn kat en denk ik: God, wat ben jij toch slimmer dan wij… Voor jou maakt het niet uit of ik dik, lelijk en oud ben, als ik goed ben voor jou, dan ben je goed voor mij, welke deugniet je dan ook kan zijn. Dan kijk je me met die lieve oogjes aan alsof het allemaal niet zoveel uitmaakt en daarna doe je het nogmaals.
Dat is wat nu door mijn hoofd speelt, enkele dagen na de aanslagen in Brussel.
Toen ik de lange rijen aan het centraal station zag in het nieuws, achtte ik me gelukkig dat ik daar niet meer werkte; ik heb het al moeilijk tijdens de rij in de winkel, daarom zoek ik altijd uit wanneer het minste volk in de winkel is.
Dan zie ik de grote menigte aan de beurs en de leuzen: "Nous sommes Bruxelles – wij zijn…
View original post 686 more words
Filed under Activisme & Vredeswerk, Geestelijke aangelegenheden, Kennis en Wijsheid, Levensstijl, Misdaden & Wreedheden, Nederlandse teksten - Dutch writings, Nieuwsgebeurtenissen - Journaal, Re-Blogs and Great Blogs, Sociale Aangelegenheden, Voelen en Welzijn, Wereld aangelegenheden
Tagged as Aanslagen Brussel, Doden begraven, Heilige boeken, Heilige geschriften, Innerlijke vrede, Lessen trekken uit verleden, Macht, Naleven, Religie, Terreuraanslagen, Vergeten, Vrede, Zoeken naar bewustzijn, Zoeken naar eigenheid, zoeken naar vrede